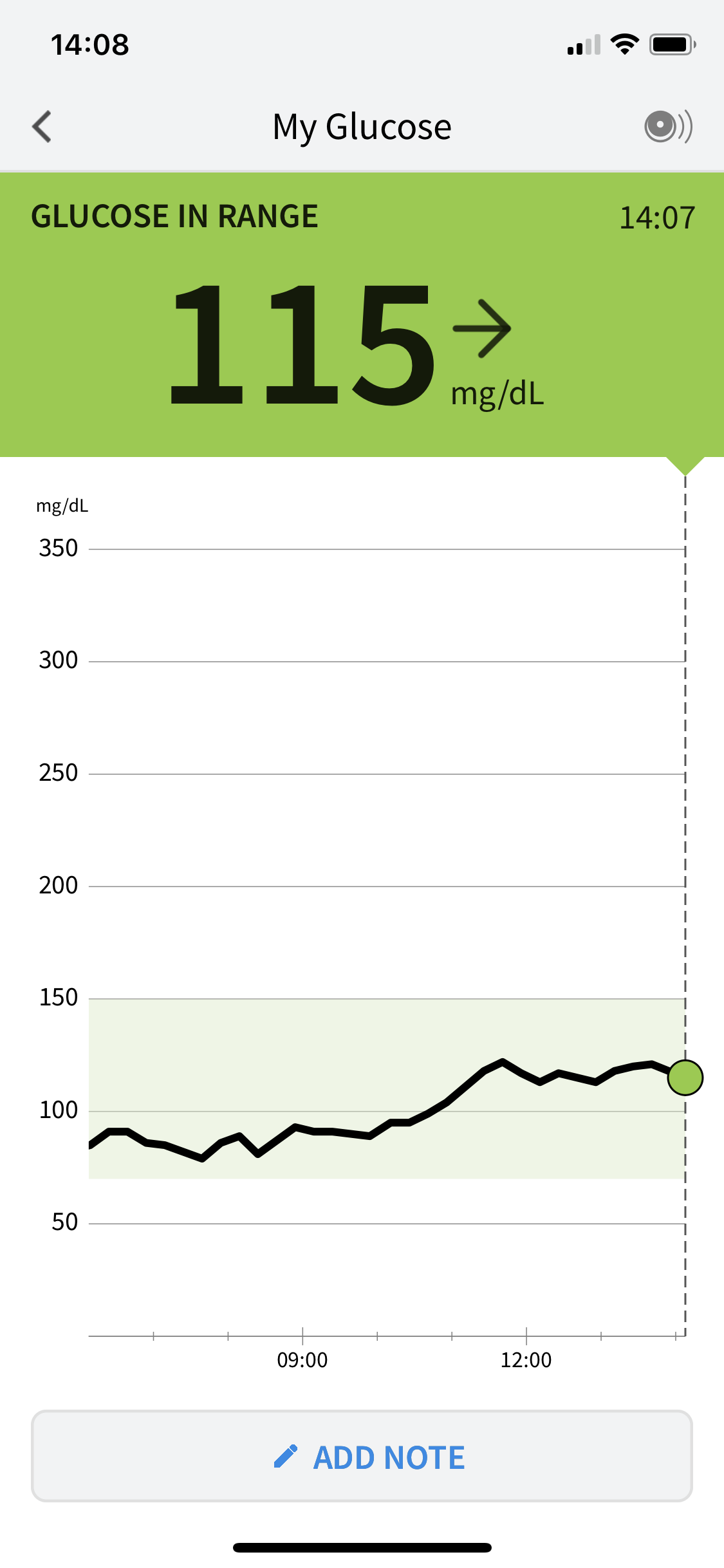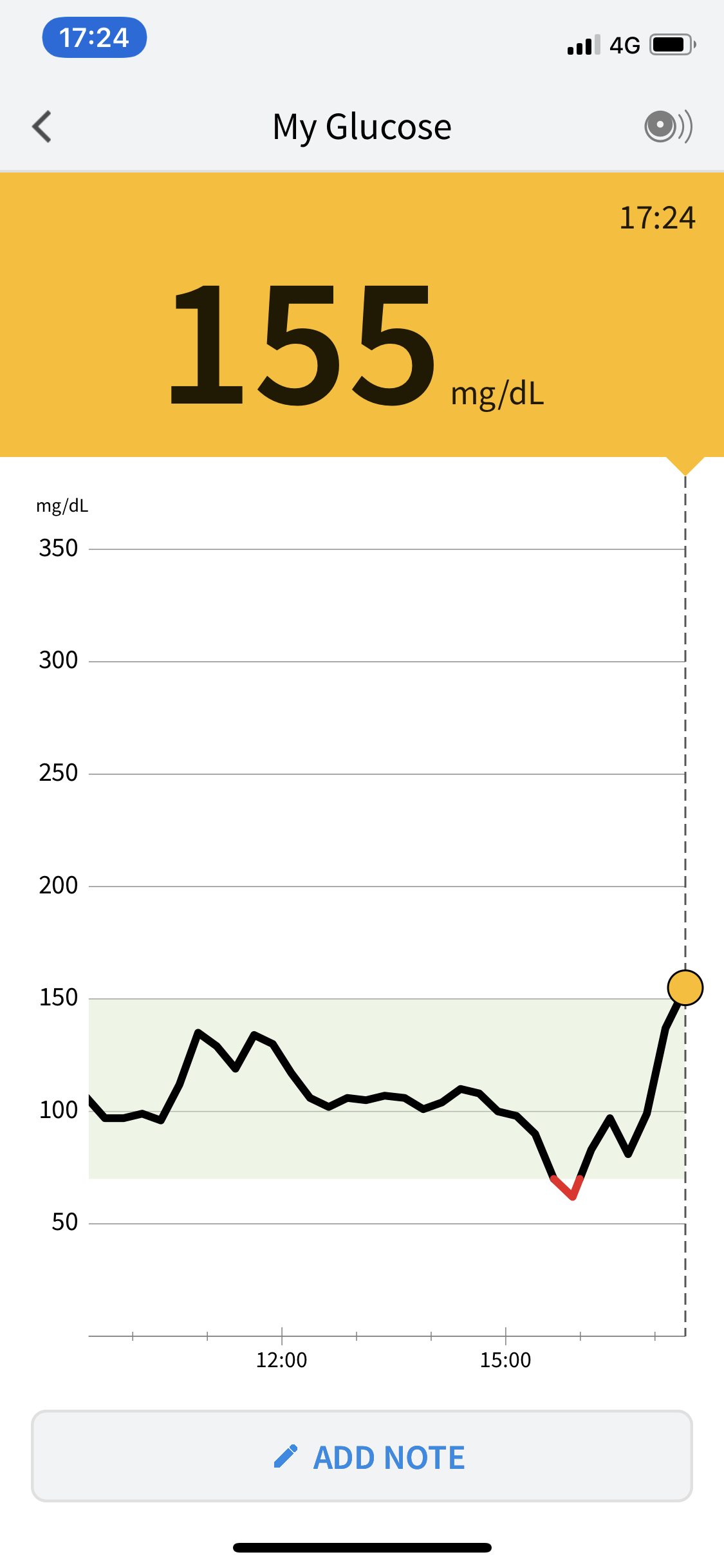 Are you already connected?
You might either consider getting your first Continuous Glucose Meter, short cgm, changing device or are curious about other peoples experiences.
Either way, I hope my 4 years experience with cgms will help you gain insights into the pros and cons of the FreeStyle Libre system!
For more than 1 year, I was pricking my finger multiple times a day to get the blood samples needed to measure my blood sugar. And I know that for many of us this is still daily practice. But let me tell you, wearing a CGM (continuous glucose meter or a flash glucose meter) turned my life around!
Probably you experienced this: the dark spots, the sore feeling at the finger tips, the lancets in every bag and pocket, tissues with blood, a messy little blood testing bag you needed to carry everywhere… I have been there and although I started to accept it, I never liked it. And then the day came, when I considered a cgm.
At that time, I was shy speaking about my T1D and the idea that a cgm is visible and marks me as a chronically ill person put me off. But I was curious to try and when I did, I never turned back!
Read on to find out about my 4 year experience with freeStyle Libre.
5 maximum rating ⭐️⭐️⭐️⭐️⭐️
Application ⭐️⭐️⭐️⭐️
Putting it on is very easy and straight forward. It usually takes 1 minute and does not hurt. Also it is rare that there is blood from where the needle goes in the skin, which probably can not be avoided as long as we measure in those ways. The needle is much smaller than for most pump systems, which makes it less invasive.
 tried the sensor on those different body parts:
uppe
r arm
upper back
thighs
All sites measured reliably. My favourite site is the thigh as it is mostly out of my way and none can knock it off like on the arm.
Packaging ⭐️⭐️⭐️⭐️
The box is quite compact. I often travel and need to bring spare ones with me. So I remove the and the tools canton to save space. The tools are very well protected and never got damaged. As the world is moving on, I would love to see this product to become more environmentally friendly. Most of the packaging is plastic, which gets thrown away after applying the sensor on the skin. All the plastic surely serve an important purpose by protecting the equipment but the lifespan is very short.
Blood sugar readings ⭐️⭐️⭐️⭐️
Generally freeStyle Libre is fairly reliable. The reading gets less exact when my blood sugar levels drop quickly. Then it sometimes reacts too low. The biggest downside of the FreeStyle Libre system is undoubtably the inaccuracy. It is important to keep in mind, that all cgms measure within the issue. This is not the same as blood and levels might vary slightly. Unfortunately the difference at the FreeStyle Libre is off by about 1 to 1,5 mmol/L or 18 to 27 mg/dL, which is more than other devices such as dexcom.
This becomes particular critical in a hypoglycemia scenario. You do not want to be alarmed at a seemingly low level, when you are actually. And you do need to be shown, not normal, but low levels when you have a hypo.
One thing which is pretty annoying is that the sensor cannot be read when being cold. There might be technically good reason for this, but out of a consumer perspective, it is very bad. So what happens? When I go running and do not cover the sensor enough in 8 degrees or colder, the sensor gives no data but an error message. That increases the risk of dropping rapidly low during exercising. I end up guessing and eat something sugary based on my experience when I usually drop low. But, as we T1Ds know: experiences are great, but they are not always the same. Test, don't guess! None likes guessing about potential lows! I hope there is a solution for it soon.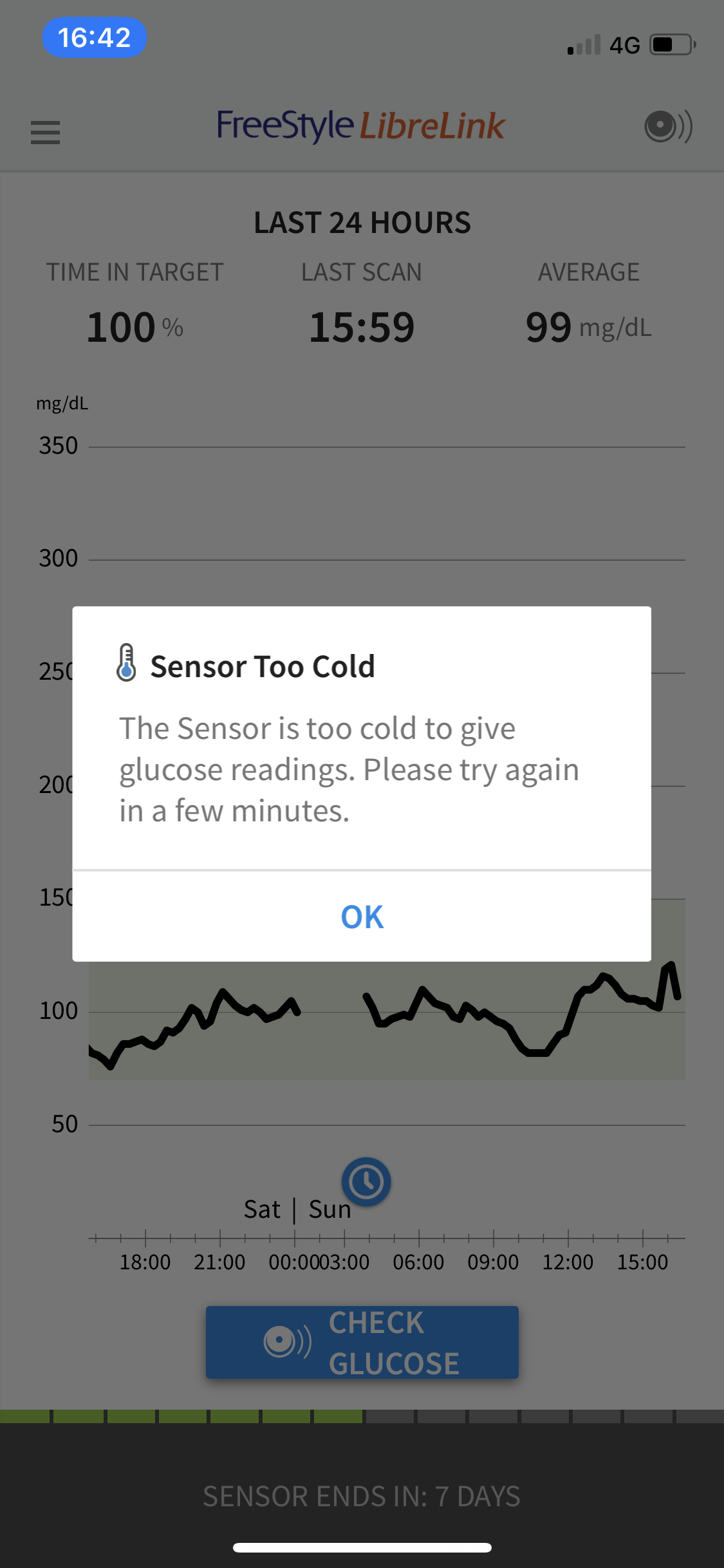 Tendency arrow warnings ⭐️⭐️⭐️
There are arrows with most readings ↗️➡️↘️⬇️ They show 5 trends of your levels: stable and low or fast rising or falling blood sugar levels. They are a great indication! It can warn me in advance e. g. my levels are in range but the arrow is pointing straight down, that means my levels are dropping rapidly and if I am at the edge of hypo levels, I can already act and eat something to correct it. But, the arrow changes quickly and I feel I cannot always relay 100% on them. That might not just be a technical issue but quick changes in the body. I advise, having many readings in a short time period, when arrows are pointing straight up or down. More often than not, they level by themselves.
Alarm system (unavailable in the UK)
Abbott released the freestyle libre 2, which gives 3 warning signals: 1. high, 2. low blood sugar and 3. signal loss. The cgm communicates automatically with your reading device bluetooth and sound or vibration as a signal at a distance of no more than 6 meters. You can adjust those settings and the company promises that the new model is more accurate. I live in the UK, where libre 2 is not yet available, therefore I cannot give a rating but diafriends I spoke to are very happy with it. Either way, it is a crucial and important function. A must have for any cgm and a big plus for the Libre!
Staying or falling off ⭐️ ⭐️ ⭐️ ⭐️
In the past, the sensor used to come off regularly but Abbottglobal improved the sticker. Now, on average, only ever 6th sensor goes off around 2 days before expiring. That means only every 3 months. Nevertheless, it is important to always have at least one spare one at home!
Connectivity ⭐️⭐️⭐️
How well can the sensor be connected? Usually you get a readying device in the starter pack. This is about half the size of an iphone 5 but much thicker. It works very well, although the colourful touch screen stops working after some time. Mine stopped after about 1,5 years. Battery live is very good, as it has a power saving mode and first decreases and then switches off the device, when not using. Depending on individual usage, the battery usually lasted 4 weeks for me. You do not need this device, if you have an iphone 7 or more recent. I do not know about other phone brands. The free "LibreLink" app works well on the phone and smart watch. I do not have the option to see the current reading without hovering the phone over the sensor. That involves me always opening the app or taking out the reader to scan it. Would be nice, if the app could just pop up by itself, same when using contactless pay, when touching the device. And then eventually go over to nonphysical scanning. Big minus is that the freestyle is not a close loop system, meaning it is not sending the readings to your pump, which then could adjusting insulin dosage for you.
Wearability ⭐️⭐️⭐️⭐️
Once I wear it, I can hardly feel it! The sensor got thinner in the past years but surely it is still thick enough to get stuck when getting dressed or undressed e.g. when using the rest room. It usually does not hurt, only time that happens is when laying on it during sleep. It can cause bruises which usually pass quickly, but the red dot, where the needle sat, stays on my skin up to 6 weeks – that might be individually different and not device specific. In addition, I do hope that the radius will decrease in future too. The smaller the better!
Activity ⭐️⭐️⭐️⭐️⭐️
You really can do everything with the FreeStyle Libre. I relayed on it when rock climbing, swimming, running, hiking, showering…it works! And it is 100% waterproof. Only issue is a cold environment as the readings can only be read till a certain temperature – see ranking at "Blood sugar readings"
Visibility ⭐️⭐️
Although I do not mind anymore, that people can see the sensor, I do not quite understand why it is produced in white without any skin colour stickers or even fun and happy stickers! The device is very visual and you might not always want to show it off! My advice for the company would be to put one fun sticker in every box! There are many great artists in the T1D community making some, go and check them out!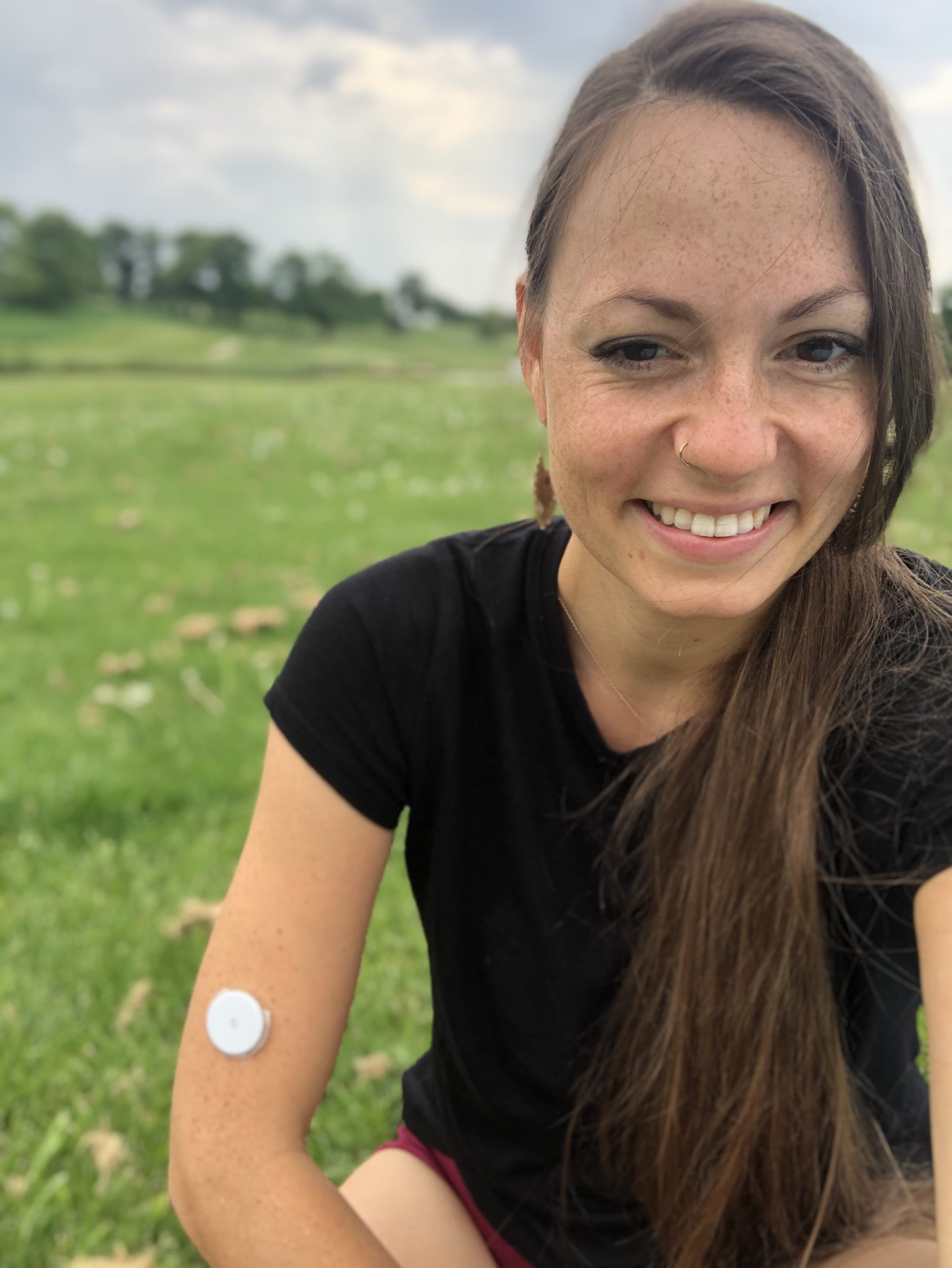 Summary
Application ⭐️⭐️⭐️⭐️
Packaging ⭐️⭐️⭐️⭐️
Blood sugar readings ⭐️⭐️⭐️⭐️
Tendency arrow warnings ⭐️⭐️⭐️
Alarm system (unavailable in the UK)
Staying or falling off ⭐️ ⭐️ ⭐️ ⭐️
Connectivity ⭐️⭐️⭐️
Wearability ⭐️⭐️⭐️⭐️
Activity ⭐️⭐️⭐️⭐️⭐️
Visibility ⭐️⭐️
Additional information available
HbA1c check
A nice little extra function is the estimation of ones HbA1c.
This is automatically taken by the average of your blood glucose readings. Having done many blood test,
I can found this estimation very accurate.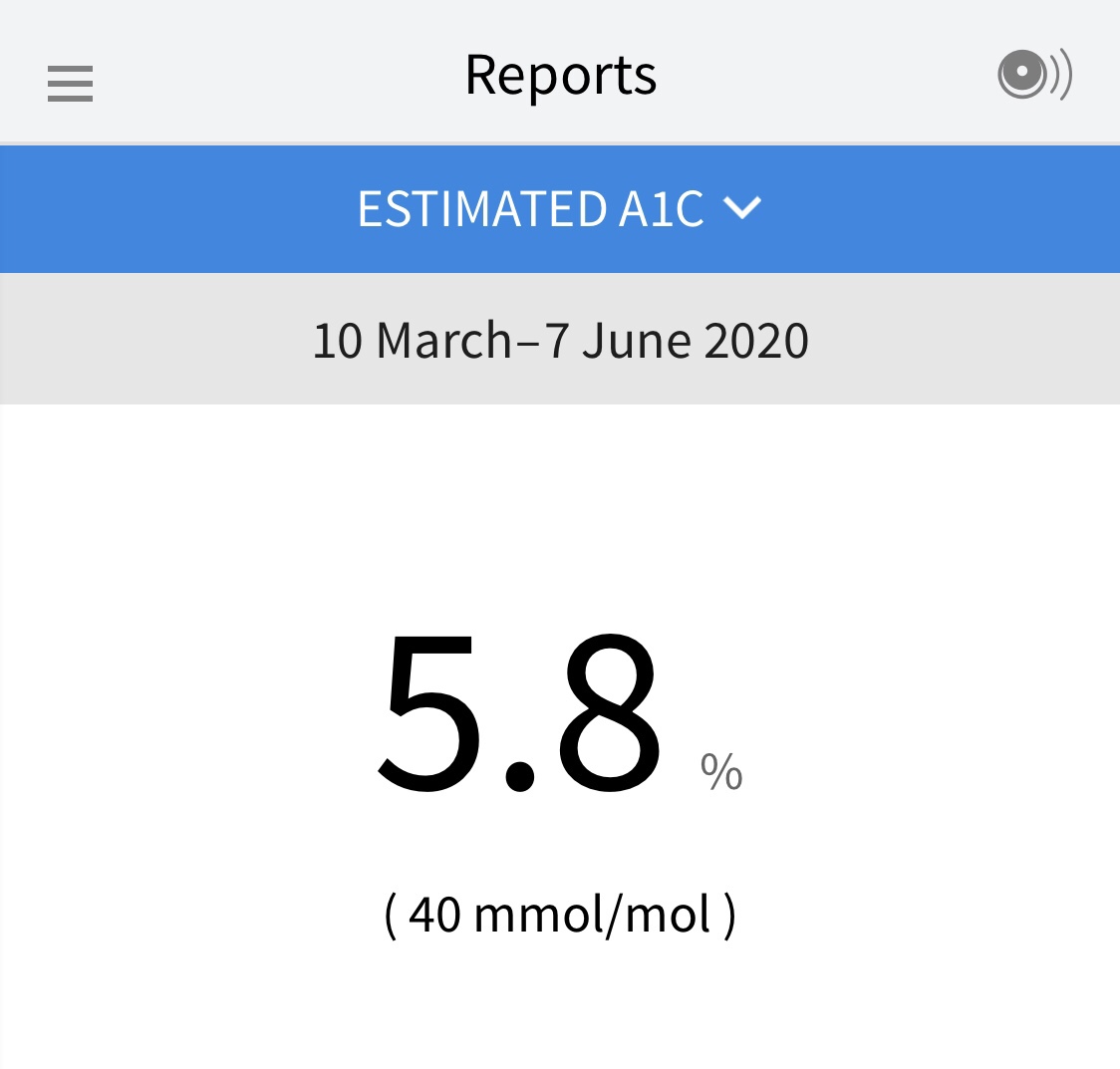 Reader versus phone
You can either check all your date on an iphone 7 or more recent or have the reader (left),
with which you can also test your blood sugar.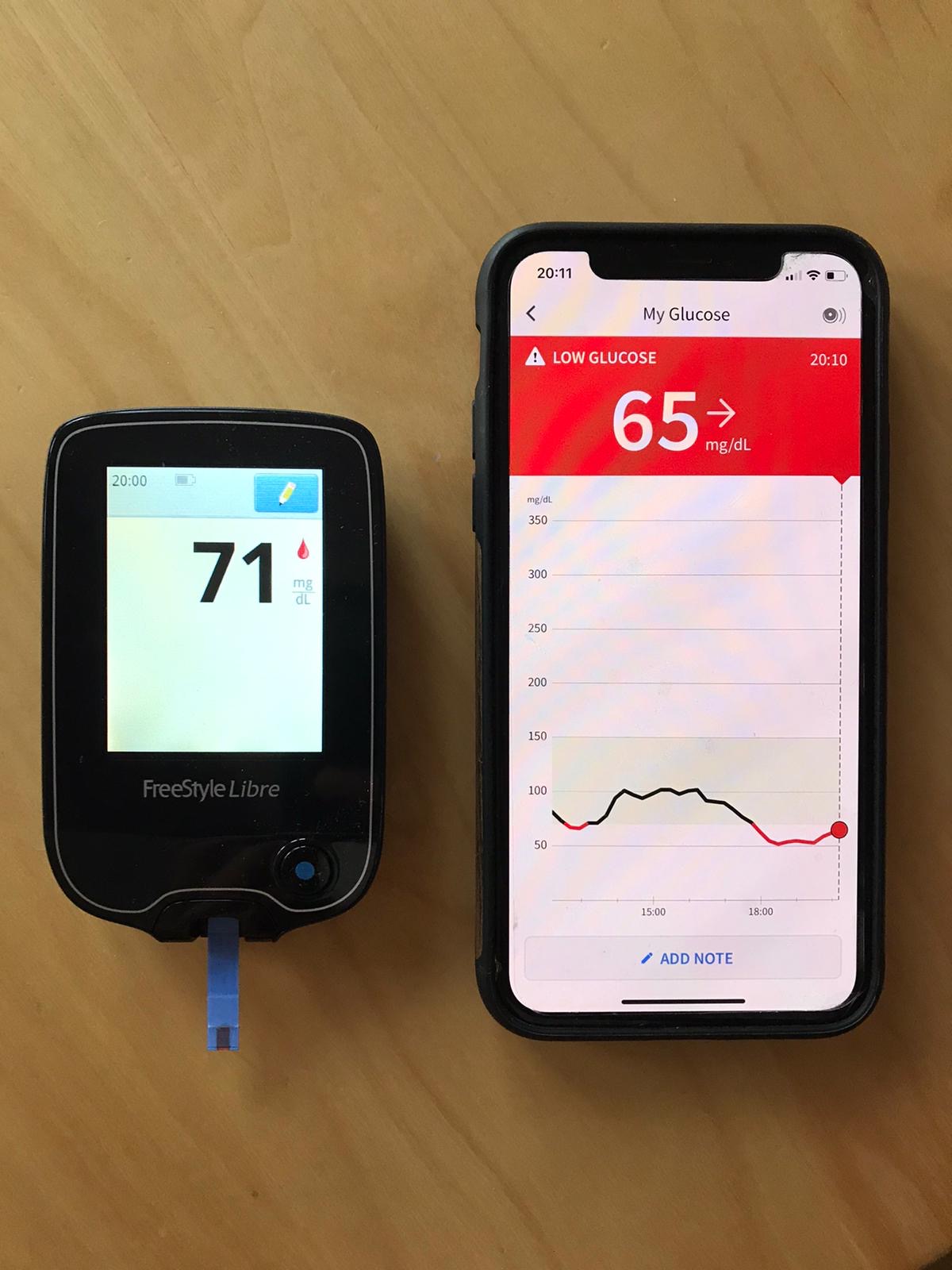 More data
Somer other reports you get with the Freestyle Libre app or as well as the reader: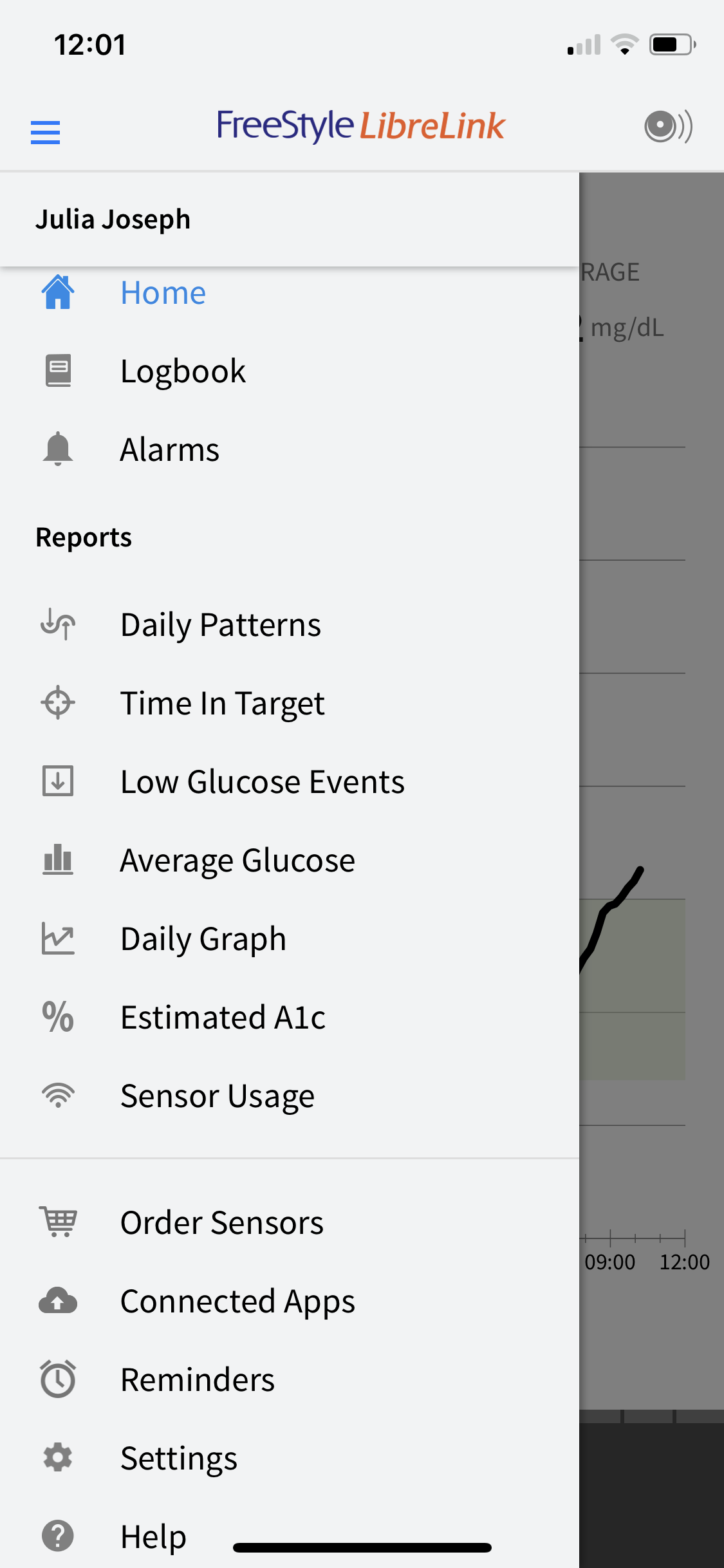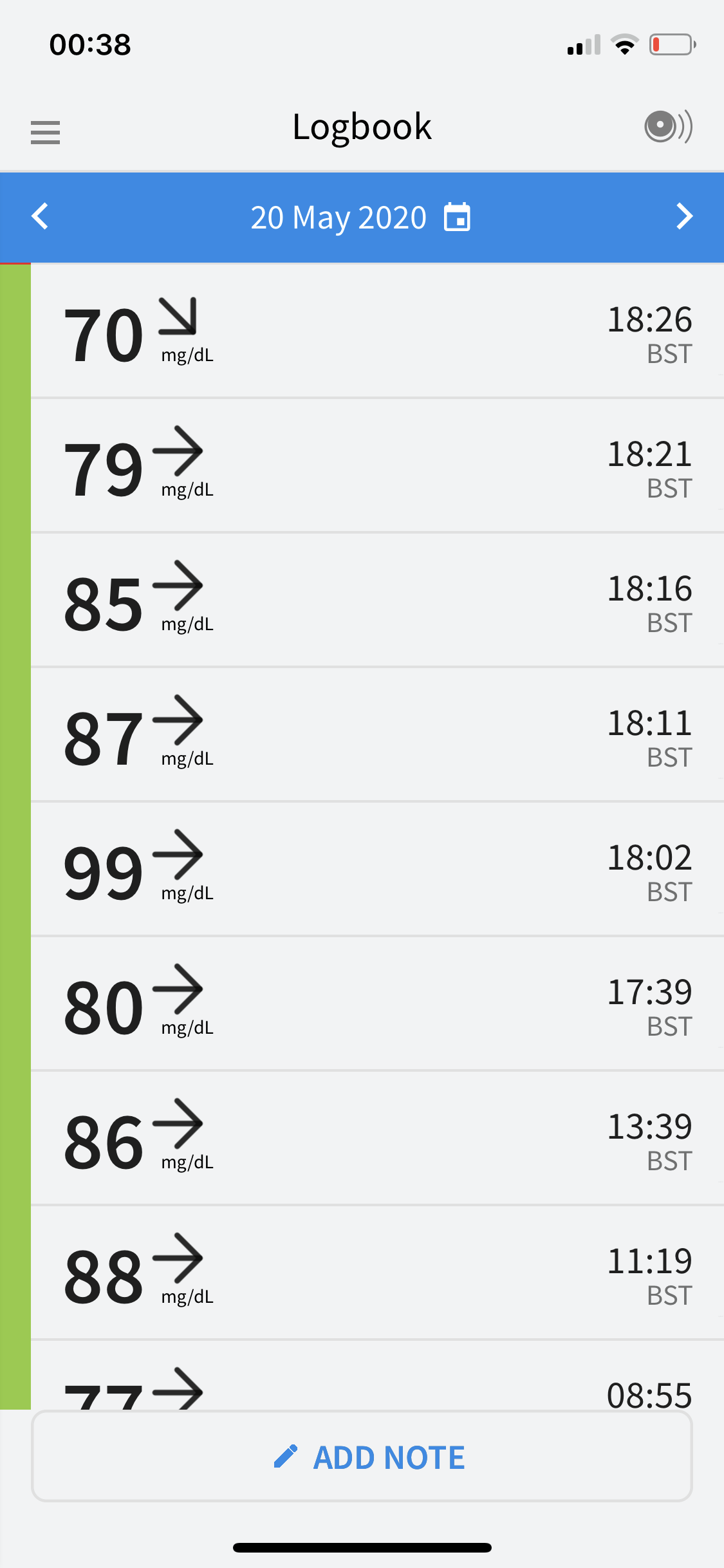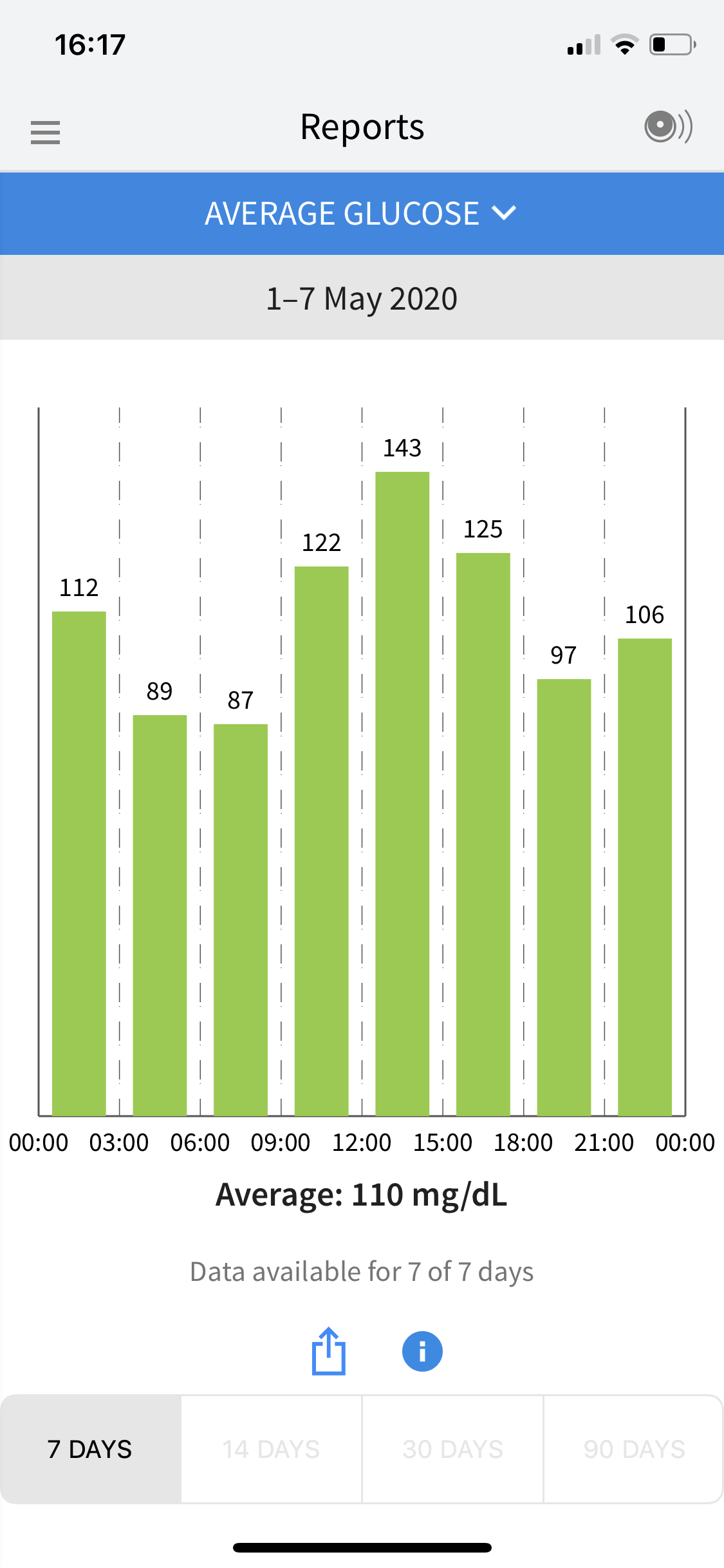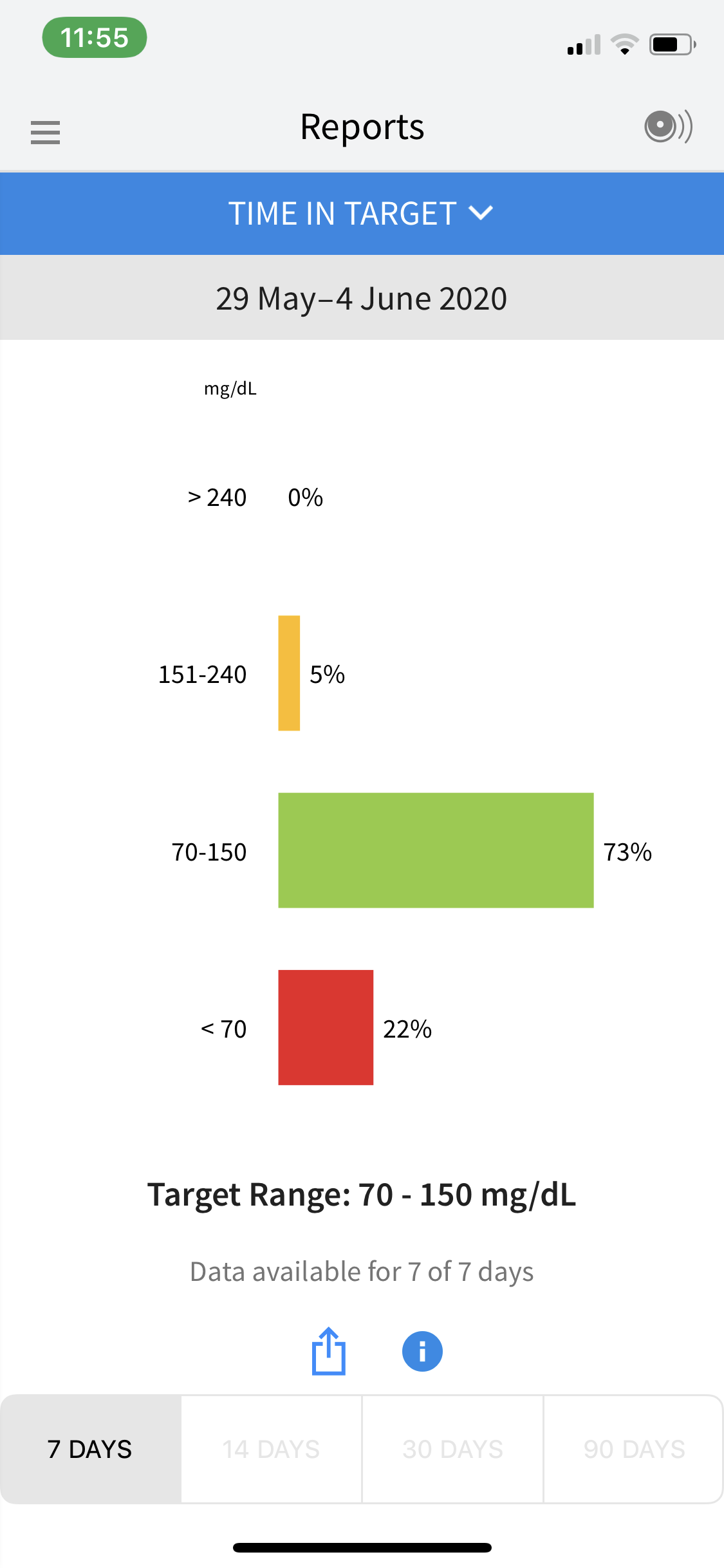 I can live without a pump but not a cgm!
 Your feedback matters to me, as this podcast is made for you! So please share your thoughts on todays episode with me on instagram.com/thehappytypeone/. There you can also stay up to date on new episode coming out! 
Do you have questions, ideas or want to be featured in an episode? Fab!
Contact me here:
Your input and ideas help massively to keep my work alive and the love spreading!
You are a gift to this world, now go out and shine!
Yours Julia
P. s.: To support his show, please, please leave a review on apple podcasts or anywhere you listen to this show!
This helps me massively to ran and improve this free podcast for you!