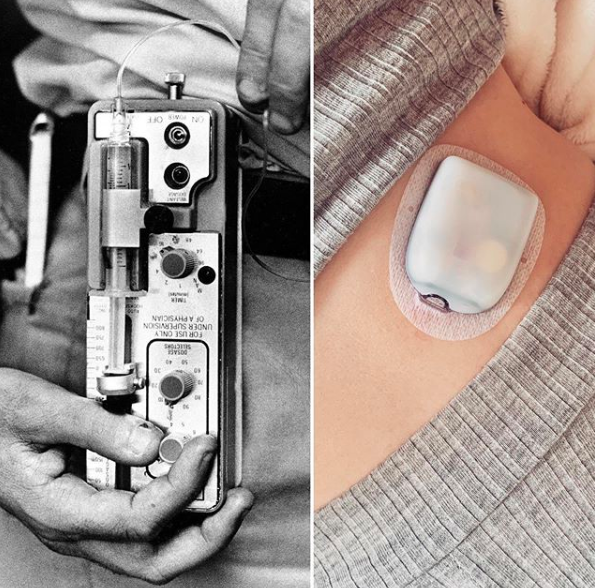 Insulin pump in 1986 vs 2020. 
 To listen & review click here:

✨

 3-Step Guide 

✨

 
How to get an insulin pump funded?
Many things Sophie and I discuss in this episode about our first insulin pump, the omnipod. One of it is how to actually get an insulin pump. It does come with it's own challenges and because I get this questions a lot, I made this 3-Step Guide for you about the requirements and criteria to get an insulin pump funded.
The information is based on regulations for England, Wales and Northern Ireland. So, if you are not from the UK, check in your country of residence similar guidelines. Yet this guide can give you a good idea of the steps you need to take as most countries have quite similar guidelines in place!

Please note that continuous glucose sensors (cgms) may be available separately!
 Before we dive into the official guidelines, you should talk to your diabetes specialist team or consultant. Usually diabetes doctor give recommendations on, who is suitable for insulin pump therapy. Your general practitioner can refer you to such a specialist. 
Despite meeting the criteria, it is important you show, you are commitment to good diabetes control,
which can involve some of those points:
💉 You check your blood glucose 4 or more times per day and act on results
💉 You take multiple daily injections (4 or more per day)
💉 You count carbohydrates and bolus accordingly
💉 You adjust insulin for exercise, stress, illness  
💉 You keep track with diabetes self-care logs
Do you meet the criteria?

N I C E
guidelines

There is a "National Institute for Health and Care Excellence" (NICE) in the United Kingdom, which is an executive non-departmental public body of the Department of Health. It publishes guidelines for insulin pump fundings. If you are not from UK, you can use this as a general idea of requirements. Yet, make sure you always check your country's specific guidelines! 
The guidelines in the UK are:
"Continuous subcutaneous insulin infusion (CSII or 'insulin pump') therapy is recommended as a treatment option for adults and children 12 years and older with type 1 diabetes mellitus provided that:
💉 attempts to achieve target haemoglobin A1c (HbA1c) levels with multiple daily injections (MDIs) result in the person experiencing disabling hypoglycaemia. For the purpose of this guidance, disabling hypoglycaemia is defined as the repeated and unpredictable occurrence of hypoglycaemia that results in persistent anxiety about recurrence and is associated with a significant adverse effect on quality of life
OR
💉 HbA1c levels have remained high (that is, at 8.5% [69 mmol/mol] or above) on MDI therapy (including, if appropriate, the use of long-acting insulin analogues) despite a high level of care." (source: NICE guidelines)
ABCD
recommendations
If you do not meet the NICE criteria, then do not give up! You might fall under recommendations from the Association of British Clinical Diabetologists (ABCD). If so, your diabetic team needs to make a strong case for you to receive funding.
According to the ABCD recommends, insulin pump therapy is also considered in the following circumstances:
💉 Hypoglycaemia unawareness
💉 Extreme insulin sensitivity
💉 Needle phobia
💉 Pregnancy
💉 Severe insulin resistance with poor blood glucose control (i.g. in type 2 diabetics)
💉 Acute and painful damage to the nerves of the autonomic nervous system called "neuropathy" or "symptomatic autonomic neuropathy" and conventional treatment fails to achieve adequate blood glucose control 

And other quality of life issues such as:
⚡ Shift work or frequent travel across time zones
⚡ Excessive number of injections to achieve good control
⚡ Glycemic excursions/dawn phenomenon
⚡ Fear of hypoglycaemia
⚡ Impaired exercise capacity, abnormal eating behaviour or an unacceptable number of sick days
⚡ Children have several more criteria such as negative impact on family dynamics, bad school performance, exclusion from aspects of a full school life, behavioural problems (e. g. when eating)
If you DO meet the NICE criteria and your consultant recommends pump therapy, then funding cannot be refused! Once funding is arranged, your diabetes care team sets up your pump training. Usually that is a face to face or online video call with a diabetic nurse and a representative from the company your new pump is from. These arrangement should be set within a time frame of 6 months.
According to the NICE 'structured education' you might get asked to complete further trainings, such as a carb counting course.
Yet you might not get a "yes" right away. I personally met the requirements and was puzzled about why I do not get a pump funded for several years. Try to understand the reasons behind this decision and what you can do to improve. If it is down to the consultant not backing you up with pump therapy then speak with him or her. Do not be shy, a pump can be a live changing support in your day to day management and a big improvement to your health!
What if your consultant does not recommend pump therapy (although you meet the criteria)?
Explore the following:
1.🌼  Ask questions – such as: What are the reasons behind this decision? What changes do they think will improve your diabetes control, if not a pump?
2.🌼  Consider adjustments – often you get ask to try out many different adjustments to your multiple daily injections.Discuss, if the suggestions for improved control is doable, realistic, practical, sensible and fair. Unsuccessful outcomes of these adjustments can lead to a pump solution. 
3.🌼  Ask for referrals – you always have the option to change doctor, diabetic team or hospital for a second opinion. Although this is not a popular path, it is your right to do so and might be the best option for you personally. Different clinics might also have different budgets available to support your needs.

Pros & cons of the omnipod
Tunes in to the podcast episode to hear Sophies and my experience with this insulin pump: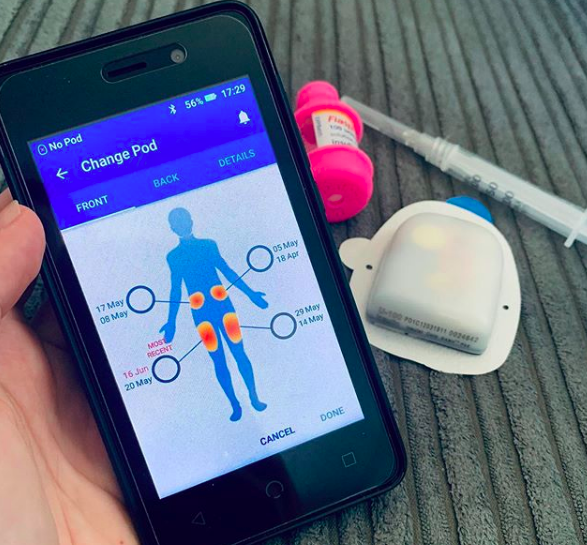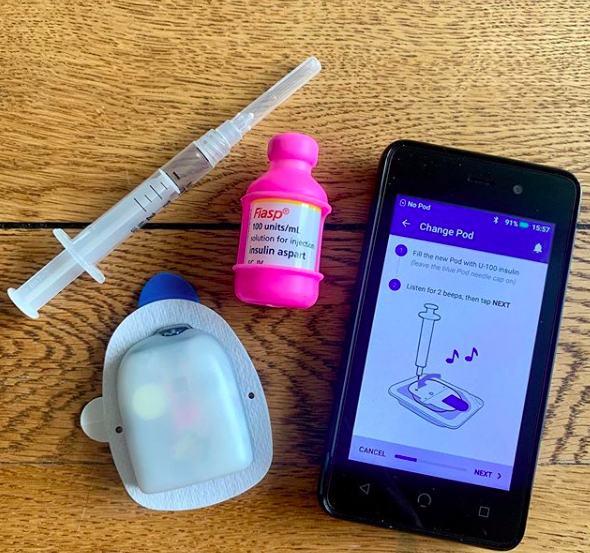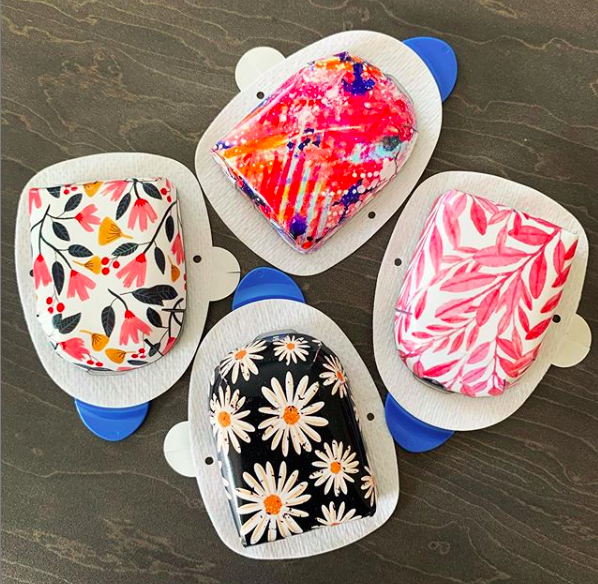 Get in touch with Sophie via instagram.
All photos in this post are also done by her.
This podcast is made for you, so I'm intrigued to know you and your thoughts on todays episode!
So say hi on instagram. There you can also stay up to date on new episode coming out! 
Do you have questions, ideas or want to be featured in an episode? Fab!
Contact me here:
Thank you for your support, feedback and love!
You are a gift to this world, now go out and shine!
Yours Julia
P. s.: To support his show, please leave a review on apple podcasts!
This helps me massively to run and improve this free podcast for you!
 To listen & review click here: